Build your next-level customer experience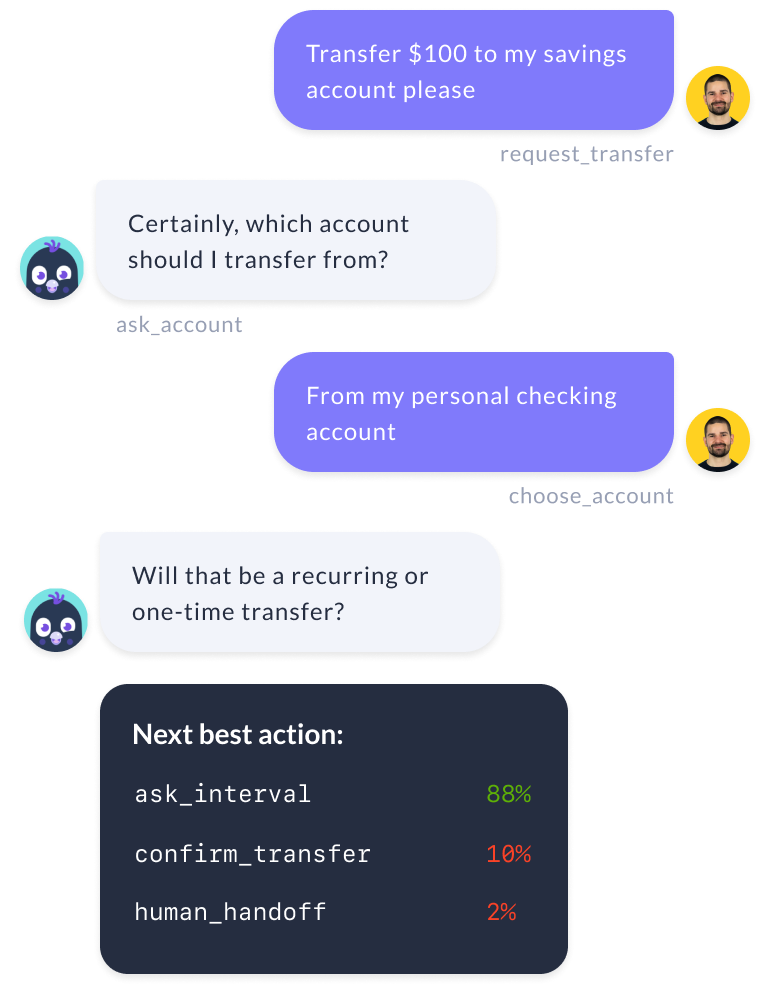 Platform for enterprise-grade virtual assistants
Powered by open source
Star
Build
Open source framework for NLU, dialogue, and integrations.
Ship
Test, deploy, and improve your assistant with Rasa X.
Scale
Superior, two-way conversations with every customer, with Rasa Enterprise.
Rasa named a "Cool Vendor in Conversational AI platforms" by Gartner
The Gartner Cool Vendor report identifies innovative products and rising trends in the conversational AI industry. Learn why Rasa was selected and get recommendations for evaluating your conversational AI stack.
Join our fast-growing developer community
The Rasa Community is a diverse group of developers, data scientists, designers, and conversational AI enthusiasts.
10m+
Downloads
10k+
Forum Members
600+
Contributors
What they're saying

Rachael Tatman
@rctatman · Apr 1
It's fabulous to see this project finally launch. Working on it has been rewarding but very challenging and we've really broken new ground on Treat Driven Development.
Rasa @Rasa_HQ
We're excited to announce that Rasa has developed the world's very first multispecies chatbot for pets. The multispecies …

Vincent D. Warmerdam
@fishnets88 · Mar 23
Hey! That's me!
We'll talk about some of my personal side projects as well as some of the research we're doing
@Rasa_HQ
. Feel free to tune in and to let us know if there's something that we should discuss.

The Inference Podcast @TheInferencePod
On the next episode of The Inference,
@mervenoyann
will host
@fishnets88
, to talk about the next big thing of going …
Alex Weidauer
@alexweidauer · Mar 24
Anti-Asian hate, violence, and racism need to stop. Rasa stands in solidarity with the victims and the AAPI communities:
blog.rasa.com/standforasians…
Start creating your own contextual AI assistant!